Student Spotlight: Ilya Semenov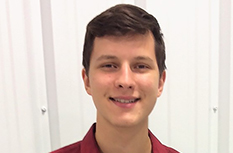 Aerospace engineering student Ilya Semenov is helping to build a vehicle as at home in the water as it is in the air. A Russian native who immigrated to the United States as a child, Semenov was drawn to the field by the opportunity for open testing and rapid advancement.
What first sparked your interest in UAS technology?
UAS technology hits home with me because of the lack of restrictions compared to manned aircraft. Unmanned aircraft allows for more rapid testing and development, which makes almost anything feasible to implement. The speed of configuring a UAS and the vast scope of possibilities entices me, much like a tool that can do everything.
What is the goal of your internship project?
The AQWUA is a hybrid air-water quadcopter with a standard configuration, meaning that is has no special underwater propellers or buoyancy devices. The main end goal is to develop the academic theory and control strategies behind propeller air-water transitions. This would allow for standardized development of autonomous hybrid quadcopters that have many applications, such as bridge inspections or naval mine sweeping.
Where are you in your project?
I have been researching and examining different approaches to the problem and am starting to implement the solutions and ideas formed. Due to logistical and other issues, my parts arrived several weeks late. The groundwork I've laid down in tests has been paying off, but due to the challenges of waterproofing, it's still a race against the clock! But this is a large scale project. There will still be lots of work to do after my internship.
What have you enjoyed most about working at the UAS Test Site?
The amount of personal autonomy I have is definitely the best part. I love being able to have control over the direction of my project. Additionally, I have access to many highly experienced people in case I need assistance or want a different perspective. It's basically the best of both worlds. Working here is also very hands-on, which is much more engaging for me.
What has been the most challenging element of your internship so far?
The sheer amount of information that I need to comb through and become acquainted with has been the biggest challenge. Every step of this process has involved new ideas and landscapes of information. Researching all the possible solutions and ways to implement them can be discouraging sometimes, especially when I hit a dead end.
What do you know about UAS technology, testing, or project planning now that you didn't before your internship?
I came into this internship with only a basic awareness of UAS technology. Now I am acutely aware of the different configuration options, the flexibility of autonomy, and the significance of certain parts and their specifications. Most notably, I learned about how developed the field has become—GPS-guided hobby-level aircraft are not out of question.
What advice do you have for students considering an internship at the UAS Test Site next summer?
My advice would be to choose a project you are interested in working on. At the UAS Test Site, you could choose to focus on virtual reality, hybrid vehicles, image processing, or any UAS-related subject that can contribute to the development of the field. It doesn't seem like work if it feels like a hobby!
Published August 4, 2017