Student Spotlight: Ryan Moss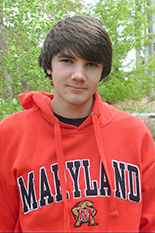 For Ryan Moss, an internship at the UAS Test Site seemed like the natural next step. The mechanical engineering student has participated in numerous engineering and robotics clubs during his two years at the University of Maryland.
What first sparked your interest in UAS technology?
My interest in robotics began at a young age—I was interested in all things technical. But I really dug into the field in high school though FIRST robotics FRC, VEX robotics, and various other small robotics competitions. My interest in UAS technology followed as I became more experienced.
What is the goal of your internship project?
The goal of my project is to create a vehicle which is able to maneuver both in the air and on land. This enables it to be highly adaptable to its environment. Such a vehicle would be ideal for search and rescue, exploration, maintenance, or any other activity that could benefit from live video feed from difficult-to-reach places.
Where are you in your project?
I have completed construction of the vehicle and am currently in the final testing phase. The components were all 3D printed out of ABS plastic and carbon fiber infused nylon.
What have you enjoyed most about working at the UAS Test Site?
The thing I have enjoyed most about working at the test site has been the freedom to design and test various aspects of my project through rapid prototyping. My system would not have come as far as fast without this capability.
What has been the most challenging element of your internship so far?
The 3D printer has been one of the most useful tools of this internship. However, it has also been one of the biggest challenges. Between planning printing schedules, testing new filaments, and conducting maintenance, the printer has consumed much of my time and energy.
What do you know about UAS technology, testing, or project planning now that you didn't before your internship?
I have learned a lot about the technical aspects of UAS systems, especially the the correct operation of a vehicle to ensure safety.
What advice do you have for students considering an internship at the UAS Test Site next summer?
I would advise students thinking of applying to the UAS internship next summer to be creative with their project and to be as timely as they can in completing it.
Published August 1, 2017